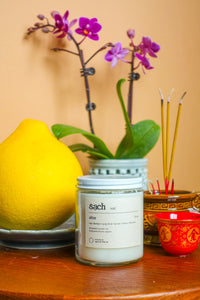 Nag Champa • Grapefruit • Peony • Cherry Blossom
Burn time: 40-50 hrs
Tết is a time for celebration as families hope to bring in good luck and prosperity for the coming year. It is also a time to reflect and pray to our ancestors: we do this by presenting them with fruits, flowers, and praying with incense.

Our ambition with this candle is to represent an integral and sentimental part of this holiday that is not always highlighted. We hope the scent captures the unique aroma that fills the home over three days of prayer, celebration, and family.
What we like about it:
It's earthy without being dark. The citrus and floral tones help balance and lighten the scent. Perfect for zen and a moment of reflection.