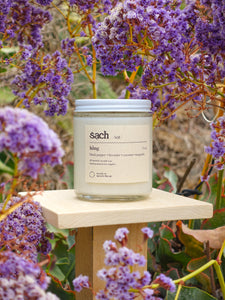 Black Pepper • Lavender • Coconut • Magnolia
Burn time: 40-50 hrs

This candle is named after Kevin's mom and is inspired by her love of purple flowers and the island of Phú Quốc where her family currently lives. Aside from the beautiful beaches, you can find black pepper farms scattered throughout the island and coconuts ripe for picking in her mom's backyard.
What we like about it:
A slightly complex and layered candle that mixes soft florals with a nice spice.