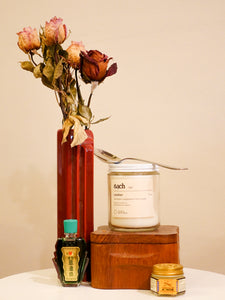 Eucalyptus • Peppermint • Smoke • Rose
Burn time: 40-50 hrs

Here's how Trâm describes the scent:
"In the cooler months, I'm reminded of the lingering perfume of eucalyptus, peppermint, and a touch of rose in my home growing up. Like many parents, my dad's go-to treatment for any pain or discomfort would be using dẩu xanh aka Eagle Brand Medicated Oil aka the green ointment. It's what we would use if we're feeling a bit achy, maybe ate too much at family parties, or have a little cold. For other families their dẩu xanh might be Tiger Balm or Vicks. Whatever your family might use we think they all carry a similar scent and brings a feeling of comfort."

What we like about it:
The eucalyptus and peppermint has a sharper scent that we've softened with smoke and rose that layers in a light woodsy scent.